A book about Dyslexia was presented in the library 'Ariostea' 2014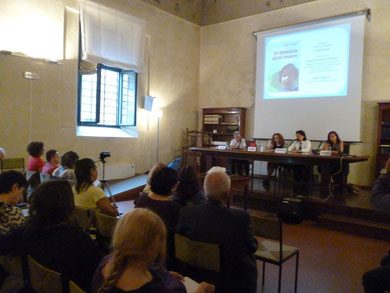 On the 19th September, in the stately "Agnelli" room in Ferrara's historic library "Ariostea"  the Italian version of "You Don't Die From Dyslexia" "Di dislessia non si muore" (A. Baldi, ed. Uomini Nuovi) was publicly presented in Ferrara.
The three speakers were the author, Adele Baldi, Massimiliano Urbinati, the director of the Comprehensive Institute Dante Alighieri, and the vice president of the SOS Dyslexia Charity, Laura Negrini.
The audience itself was made up of many teachers, parents and  quite a number of folk who were  all very interested in the subject of learning difficulties.  
Following a brief introduction by Paul Finch, pastor of the Evangelical Church (CERBI) who had organised the presentation, the author herself   explained that the book had not been written as a manual on "How-to-overcome-the-difficulties-of-dyslexia". The true reason for writing it lay in the truth of the subtitle "the Diary of a Journey of Love".  The vivacious narration,   at times even humorous and  self-consciously ironic, was a moving description of the various episodes in the home, at school, and among friends,  many being illustrated by cartoon-like overhead slides and significant readings from the book itself. All of the participants were caught up in the emotions of the triumphant story.
Massimiliano Urbinati expressed his own appreciation of the human passion saying that without the heart participation this sort of difficulty cannot be overcome. In fact the various educational and scholastic helps which have been put in place must  see themselves as more than  "techniques" . A special tribute of thanks was made to Ugo De Nunzio (a lawyer and member of the Lions Club and  present on the occasion), who in the area of Ferrara has been a keen point of reference through the project which is translated: " The school for everyone – everyone for the school".
Laura Negrini, herself actively involved for more than 10 years with an agency of help for those suffering from dyslexia, told of her own experience as both a parent and as vice president of the charity SOS Dyslexia.  It's a delicate matter to enter into the problems of the family trying to bring greater awareness of the nature of the difficulties involved as well as of the growing number of opportunities  for assistance which are now available.  
At the conclusion of the presentations there was a time  for questions which were not slow in coming.  One could really say that the town of Ferrara  has experienced an important opportunity in its life and culture.