Belief and Knowledge in the 17th Century presented in 2013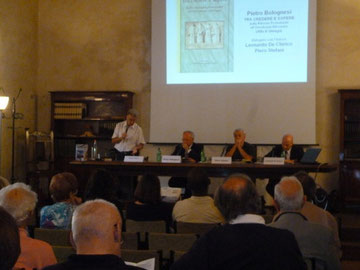 The presentation of the recent publication
on the Protestant Faith
in the Ariostea Library at Ferrara
On the 26th September, the resplendent "Sala Agnelli" room  was the impressive setting for the presentation, by the CERBI Evangelical Church of Ferrara of the book by Pietro Bolognesi, "Between belief and knowledge – From the Protestant Reformation to Reformed Orthodoxy" Caltanissetta, Alfa & Omega 2012. Nearly fifty people gathered to hear the author interact with Piero Stefani and Leonardo De Chirico about the book itself.
It is not the first time that Bolognesi has been to Ferrara. He came to the prestigious library when the church organised presentations of the "Evangelical Declarations" as well the smaller book "The Evangelical Movement 1966-1996" (2/10/1998), and the scholarly work  "Pietro Martire Vermigli (1499-1562), umanista, riformatore, pastore" (21/1/2005) and the very useful "Dictionary of Evangelical Theology" (26/1/2008).
Pastor Paul Finch introduced the new book commenting on its importance. From a historic vantage point, it highlights and details the relationship of the Protestant Reformation with the following 17th* century.  From the spiritual viewpoint, the development centred on the relationships of faith and reason, Scripture and tradition, as well as the convictions which undergirded the Confessions of Faith.
The believer in the sixteen hundreds affirmed the importance of a faith rooted in correct belief (orthodoxy), the necessity of that faith being empowered by a passionate conviction of the heart (orthopathos) and its blossoming into a coherent lifestyle (orthopraxis).
Today, the Evangelical Faith recognises that it stands in a perfect line of continuity with this heritage and is constantly looking for ways to make that known – even in Ferrara!